If you are interested inadvertising with us…
…please call 01626 873364or click here
Choosing Your Wedding Dress in Devon & Cornwall
Slim and slinky, chic and elegant, a confection of tulle? Off-the-shoulder, halter neck, spaghetti-strapped, strapless, backless? In virginal white, ivory, gold, the palest of baby pinks or the deepest of crimsons or burgundies? If you're beginning to panic, don't. Just get out there and start looking! Your wedding dress is the most exciting dress you will ever buy and most brides will tell you they knew they'd found the right one as soon as they tried it on. Where do you start? There are thousands of wedding dresses our there but they all fall into five basic shapes:
Ballgown
Its fitted bodice and full skirt creates the impression of curves for brides whose figures tend to be a bit straight up and down.
Empire Line
Its high-waisted style, with a slim or A-line skirt falling from just below the bust, suits brides with classic English figures – small on top and a bit fuller on the bottom.
Sheath
Slim and figure-hugging, the sheath and its sister style, the fishtail, look stunning on both perfect petites and long and leggy brides. Those with less than perfect figures are advised to avoid it!
Princess Line
Describing an A-line by means of vertical panels either from the shoulders or from the bust, this style suits brides who want disguise their hips.
Dropped waistline
The long bodice and dropped waist of the basque-style suits almost every figure and is perfect for brides who want to draw attention away from a very full bust. When it comes to necklines and sleeves, take a good look at your shoulders before you make a decision.
Strapless
this straps, halter necks and off-the-shoulder gowns accentuate pretty shoulders. If you have wide shoulders, go for a V-neck or wide straps Sweetheart, square and V-necklines elongate shorter necks. High collars and boat necklines disguise bony shoulders or prominent collarbones. Full, fancy sleeves and lace, beaded or embroidered bodices all suit the smaller figure while better-endowed brides should avoid low necklines and fussy detail on the bodice.
Should I wear white?
Nowadays, only if you have a tan to set it off – if you're going for the traditional bridal look, creams and ivories are much kinder to the skin. But the choice of colour is enormous. Gold, silver and delicate pastels are very much in evidence and, if you really want to make a statement, there are fabulous rich crimsons and deep burgundies.
The back view
Everything you've ever read about the importance of the back of your dress is true. That's what your guests will be looking at all through the ceremony. A built-in train will give you a slimmer outline while you're standing at the altar and lend a special dignity to the occasion. Yes, they're more difficult to handle but think of the fun you'll have practising in front of the mirror at home. You'll soon work out how to walk and turn gracefully and don't forget your chief bridesmaid will be there to ensure your train falls properly on the day.
A final tip…
When you go to choose your dress, limit the number of people you take with you for advice to a maximum of two. And always include a friend whose opinion you trust and who will tell you the truth about what suits you, and what doesn't.
14 & SIXPENCE
57 East Reach, Taunton TA1 3EZ
Tel: 01823 276590
Email: [email protected]
Award-winning bridal, prom and occasion dress boutique where friendly and experienced staff will listen to what you're looking for and help you find the dress which is perfectly suited to your style, shape and personality, as well as your venue, theme and special day.
A stunning collection of international designers, including Enzoani, Wendy Makin, House of Nicholas, Rachel Allan and Elysee, means there's plenty of choice and the boutique prides itself on stocking designers who offer something extraordinary and a little bit different, every one exclusively to them in this area.
At 14 & Sixpence, they know how important it is that 'THE DRESS' makes you feel confident, beautiful and elegant and they offer every customer a personal appointment. There's a full range of accessories and don't miss the 'One & Only' department, with designer prom and bridesmaid dresses at half price.
AMICA BRIDAL BOUTIQUE
Plymouth Road, Crabtree, Plymouth PL3 6RL
Tel: 01752 214040
Email:
Explore a beautiful range of bridal gowns by Alfred Angelo, Disney Fairytale, D'Zage, Catherine Parry, Ronald Joyce and Victoria Jane, as well as a stunning range of bridesmaid dresses, dresses that are perfect for prom, and 'Perfect' shoes and hair accessories.
The team of friendly and expert wedding dress advisors are on hand to help you find the dress of your dreams, and a bridal hair stylist and specialist wedding make-up consultant are on hand to complete the perfect look.
BEE BEE GOWNS
434 Crownhill Road, West Park, Plymouth PL5 2QS
Tel: 01752 350305
Email:
With everything for the bride and bridesmaids, as well as mother of the Bride, wedding guests and prom outfits.
THE BRIDAL BOX
The Old Bank, 3-5 Lucius Street, Torquay
Tel: 01803 292222
Email:

[email protected]
Beautiful bridal gowns by Kenneth Winston, Ella Rosa, Veromia and White Rose.
THE BRIDAL EMPORIUM
105-106 Fore Street, Exeter EX4 3HY
Tel: 01392 493814
Email:

[email protected]
With over 200 lovingly made designer wedding dresses on show and collections to suit every budget, every style and every bride, The Bridal Emporium in Exeter should be on every bride's visiting list. All the dresses are lovingly made by renowned designers, including Kenneth Winston, Mark Lesley, Romantica, Lois Wild and Phoenix Gowns, all of whom have been selected for their exceptional quality, reliability and experience.
The family-run, independent business has a fabulous team of professional bridal consultants and talented seamstresses, all with years of experience, who will look after you from your initial point of contact right up to the day of your wedding, when they will happily arrive at your venue and dress you for your big day.
Established for 27 years, The Bridal Emporium is Exeter's longest-established bridal, prom and occasion wear boutique aqnd it has something for every bride from modern glamour to vintage chic . Whatever the look you wish to achieve, they will help you to find 'the one'.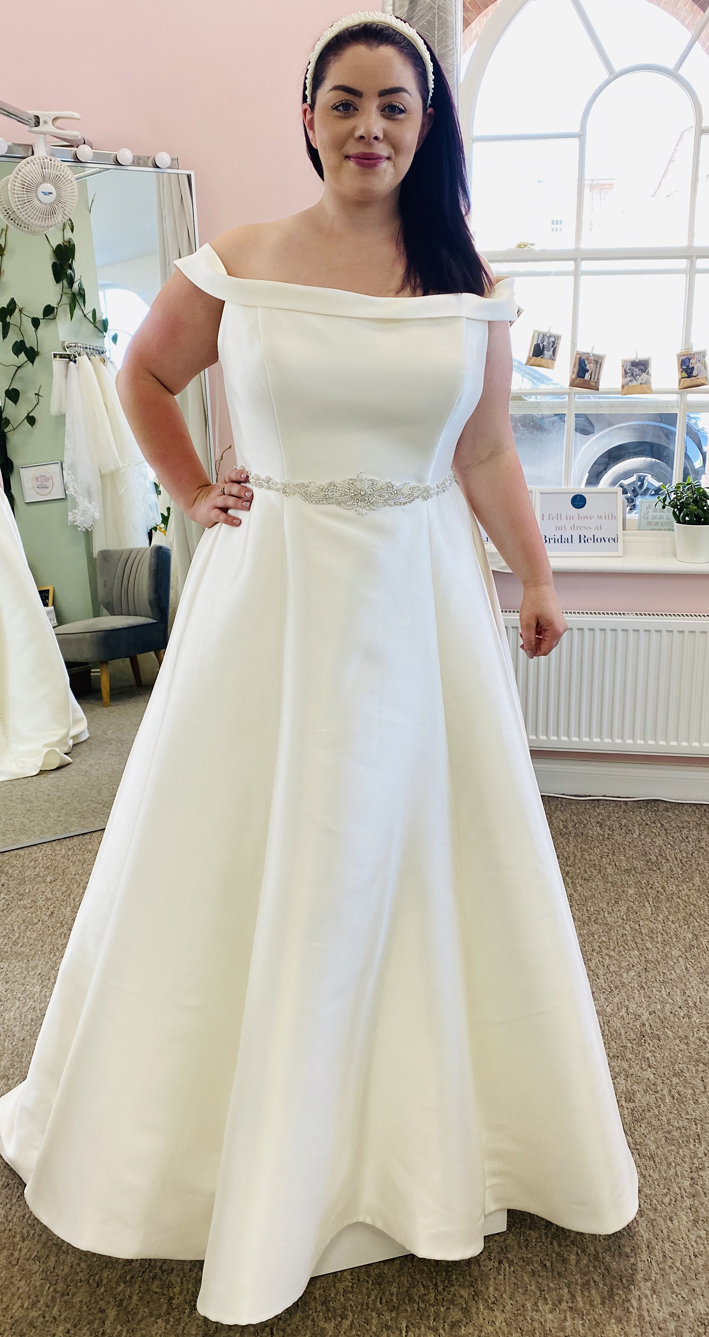 BRIDAL RELOVED
14b Market Street, Tavistock PL19 0DB
Tel: 01822 610501
Email:

[email protected]
Run by mother and daughter duo, Sue and Kate, Bridal Reloved specialises in sample and pre-owned high-end designer wedding dresses. The beautiful boutique on the edge of Dartmoor also offers a new range of Terra Bridal dresses for curvier brides in sizes 16 to 32. Just a two-minute walk from the centre of the town, there's plenty of convenient parking in nearby car parks.
BRIDES WITH CURVES
12 Parkstone Road, Poole BH15 2PG
Tel: 01202 937561
Email:

[email protected]
At Brides with Curves they fully understand and embrace all beautiful plus size, curvy brides – and they have the awards to prove it, having been voted the Leading Exclusive Plus Size Bridal Specialist on the South Coast by Cosmopolitan and making the Top 9 in the UK and Ireland
Brides with Curves stocks beautiful collections of gowns, including Sonsie by Veromia, Beautiful Brides+ by Special Day and Femme by Kenneth Winston in sizes from 18 to 34. They offer a personal service individually tailored to meet each bride's requirements, in a relaxed and friendly environment. Contact Kelly to arrange a two-hour appointment with safe, exclusive use of their lovely shop.
BROWNS OF TOTNES
Huntwell House, 48 High Street, Totnes TQ9 5SQ
Tel: 07875 504779
Email:

[email protected]
Browns of Totnes stocks some of the most sought-after designers including Cymbeline of France and St. Patrick of Spain, offering a top range of unique dresses you'll struggle to find elsewhere in the region. If you want your wedding to be unlike any other, you need a dress unlike any other – and Browns of Totnes is the place to get it. They pride themselves on showcasing a wide range of styles for every bride. Whether you're looking for something traditional or more edgy, to a boho or vintage look, there will be something for you to try in sizes from 4 to 14. They also specialise in exquisite sample gowns from the best designers for brides who are on a short timescale or working to a strict budget.
During your private appointment you will enjoy a welcoming and tranquil environment and be treated to a VIP experience on the most memorable and emotional day amid all of your busy wedding planning. They recognise that buying a wedding dress should be an enjoyable and unforgettable experience and endeavour to make every bride feel truly special and relaxed.
IZZI STOCKTON
48 Bridge Street, Taunton TA1 4UD
Tel: 01823 331053
Email:
From walking through the door and trying on your first gown to collecting your dress for your special day, Izzi Stockton Bridal has your best interests in mind. And when it comes to hand-picking each season's collections they have real women in mind, so their glamorous gowns come in sizes from 10 to 30 and the majority are over size 18. Among their bridal collections are Veromia, Sonsie by Veromia, Tiffanys and Lou Lou Curve. There's a full range of accessories and prom and bridesmaid dresses in sizes from 2 to 30.
Currently the boutique is working by appointment only and limiting groups to three people. Visitors are politely asked to continue to wear face masks and sanitise their hands when they arrive and the shop is thoroughly cleaned between customers.
It's ully accessible to wheelchairs and pushchairs and there is lots of parking nearby at Wood St pay and display and Morrison's supermarket.
LOWEN BRIDAL
12 Church Street, Launceston PL15 8AP
Tel: 01566 778989/07516 646089
Email:

[email protected]
Fabulous selection of gowns from British designers Romantica of Devon, Phil Collins and Tiffany Bridal. Also glittering range of accessories, beautiful bridesmaids' dresses and pre-loved ball gowns, prom and party dresses. There's also a 'Bride on a Budget' collection. Sizes range from 4 to 30, all at amazingly reasonable prices.
Supporting UK business is important to them, which is why they've chosen to stock only from suppliers based in the UK and, wherever possible, right here in the south west.
PIROUETTE
The House that Moved, 24 West Street, Exeter EX1 1BA
Tel: 01392 432643
Email:
Stocking highly sought-after international collections, including Maggie Sottero, Sottero & Midgley, Rebecca Ingram and LouLou Bridal. Intimate appointments available and there's a bespoke alteration service for that perfect fit.
PRETTY SMITHY BRIDAL
93 High Street, Totnes
Tel: 01733 778434
Email:

[email protected]
A lovely bridal boutique in the heart of Totnes, with a huge selection of made-to-order dresses from collections including Millie May, Lilly, Brighton Belle, Millie Grace and Graceful by White Rose. They also stock an extensive collection of off-the-peg designer dresses – so if you are looking for a dress with a quick turnaround, this is the perfect place for you!
​Amy and her team pride themselves on their realistic pricing – dresses start from £149 and a large proportion are below £799 – and friendly relaxed service. They want every bride to have the dress of her dreams, with a boutique, special experience, at a realistic price.